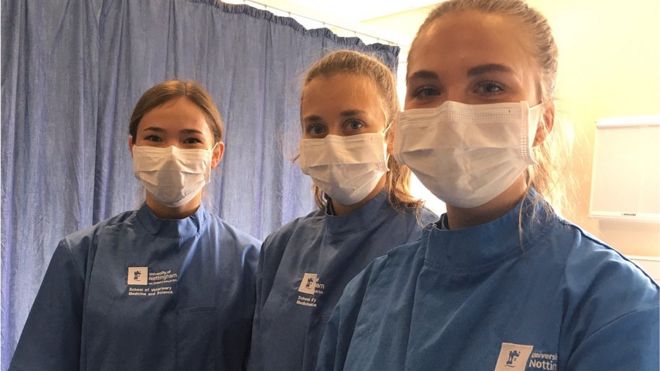 Posted: 27 Jul 20 - 19:29 BST by Mark
The first students are beginning to return for face-to-face teaching on UK university campuses - with a new term of compulsory masks and closed bars.
Most students won't begin until the autumn, but veterinary students are now back at the University of Nottingham.
They are the pioneers for how campuses across the UK could look as they reopen after the Covid-19 lockdown.
"The social experience will be more limited, but these are unprecedented times," says registrar Paul Greatrix.
The first cohort going back in Nottingham are 150 trainee vets, some of whom will see a great deal of each other - as the university adopts the "bubble" system in which small groups will live as well as study together.
The university is calling it "households" rather than "bubbles", but it is the same principle of restricting the spread of infection by keeping people in small groups which are kept separate from each other.
Within these households of three to 10 students there will be no need for social distancing or wearing masks, but where different households meet the students will have to stay apart."Safety has to be the priority," says Dr Greatrix
The buildings are mapped out with one-way systems and hand sanitising stations and masks have to be worn, including in lessons, by staff and students.
Lectures will be online and there will be in-person teaching for small groups, which is essential for a practical subject such as veterinary science.